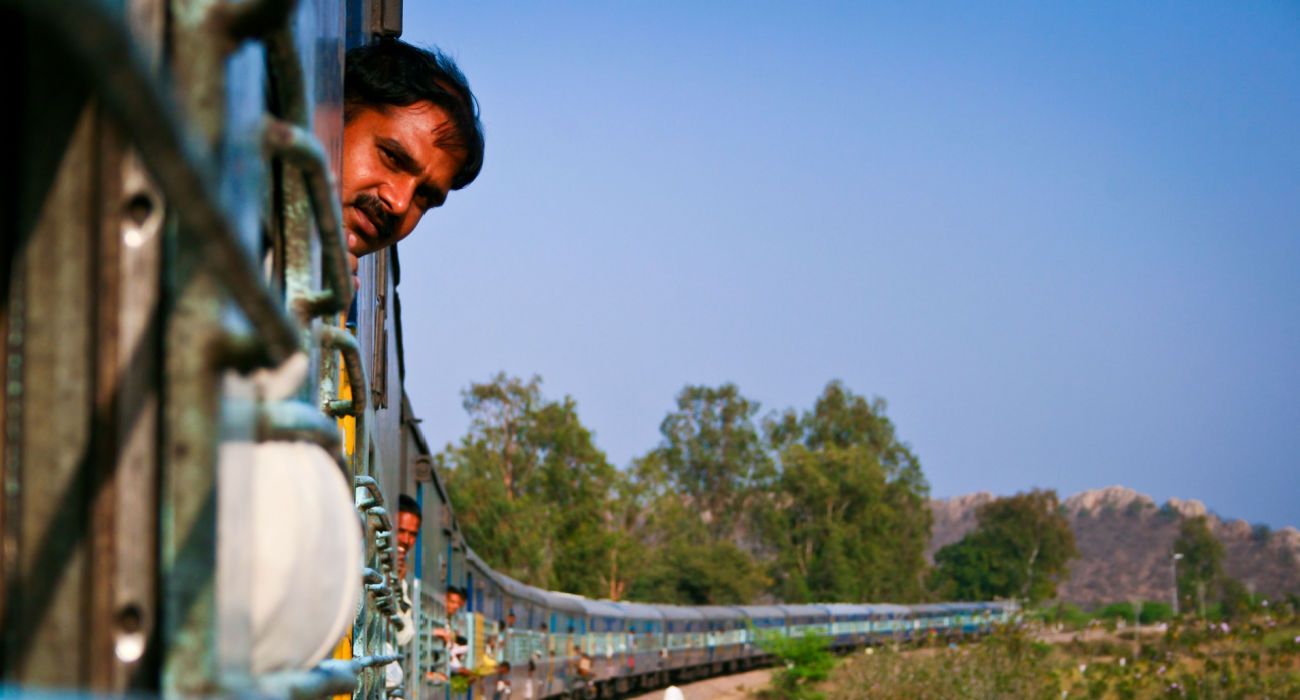 Why Taking A Train In India Is An Adventure In Itself
Traveling by train in India is one of the most authentic and adventurous ways to get around in the nation – but it's not for everyone.
People Looking Out An Indian Train
India is a country that moves by rail. Of course, there are buses, cars, and airplanes, but most Indians tend to get around mostly by rail. India's train network is one of the oldest in the world (they have the oldest locomotive still in use – the Fairy Queen). While most tourists may choose to take more convenient ways of traveling long distances in India (e.g., flying), traveling by train in India is an adventure unto itself.
Traveling by regular trains in India is not for everyone – at least, it is not for those already experiencing cultural shock while in India. India is a country very intrepid traveler should visit – but it is also a country with some things to watch out for. One of the most adventurous places to visit in India is the state of Nagaland – it is famous for being inhabited almost completely by traditional tribes.
Indian Railways: The Arteries Of The Nation
Some 8 billion passengers are transported by Indian Railways every year in India, and around 22 million people use it every day in the country.
Rail Network: Around 78,500 Miles or 126,000 Kilometers Of Track
Stations: 7,325 Stations
Locomotives: 12,729 Locomotives
India's national rail network is the fourth largest in the world (after the USA, Russia, and China). India Railways is one of the top ten largest employers in the world. It is no exaggeration to say that the trains of India are the lifeblood of the nation. They are the arteries and veins of the country that keep the country operating.
The trains in India range from luxury air-conditioned compartments to extremely basic cars with laborers sitting cross-legged.
Related: These Are The Common Mistakes Everyone Needs To Stop Making On Vacation (And How To Avoid Them)
What To Expect On Regular Intercity Trains In India
An overnight or multi-day train trip across the country is an epic experience. It is easy to talk to people on the train and make friends. Services are basic (depending on the class and the particular train). People not used to India traveling in regular sleeper trains may be overwhelmed (e.g., the toilet can just be a hole over the train tracks). The cost of these trains is minimal.
Classes: Often Four Classes To Choose From
On these trains, travelers should be very careful about pickpockets and thieves. Consider using the day backpack as a pillow and keep a close eye on the main luggage.
These are trains where the windows can come down, and the doors can be flung open on moving trains. As the trains crawl into just about every corner of India, see lush winding slopes, jungles, dusty villages, stunning coasts, rice paddies, and countless places where foreigners rarely tread. As the train stops at stations along the way, expect peddlers to hop on the train selling tea, peanuts, and other snacks or trinkets.
Expect trains to be significantly delayed in India (and don't stress)
Travelers should be aware that taking these trains is an experience – a way to see a completely different way of travel and way of life. Do not judge them by expectations of train travel in Europe and expect them to be often delayed – sometimes by as much as 12 hours.
An all-day intercity train trip with a basic bed may only cost around $10.00. Book the train tickets online with India Railways.
Related: Visit India's Seven Sisters: The Forgotten Western Extreme Of The Country
The Deccan Odyssey – The Ultimate Luxury Indian Train Journey
Way at the other extreme of train travel in India is Deccan Odyssey. This adventure is almost the same ballpark of prices as one can expect from the famous (and expensive) Canadian Rocky Mountaineer. The prices for international travelers on the Deccan Odyssey are different than for Indian passengers.
Distance: 947 Miles or 1524 Kilometers
Duration: 7 Nights / 8 Days Journey
Cost Of Deccan Odyssey (For Foreigners):
Deluxe Cabin: $7,320, Single Occupancy; $10,500, Double Occupancy
Presidential Suite: $15,855 Single Occupancy; $15,855 Double Occupancy
The prices include accommodation and meals but not alcohol. The journey starts in New Delhi and ends in Mumbai. They service some with personal butlers, bejeweled dinner plates, and even onboard bathtubs. Along the way, passengers see some of India's key attractions, like the Taj Mahal and Ranthambore National Park.
The journey is more of a cruise on wheels than it is an authentic train experience in India.