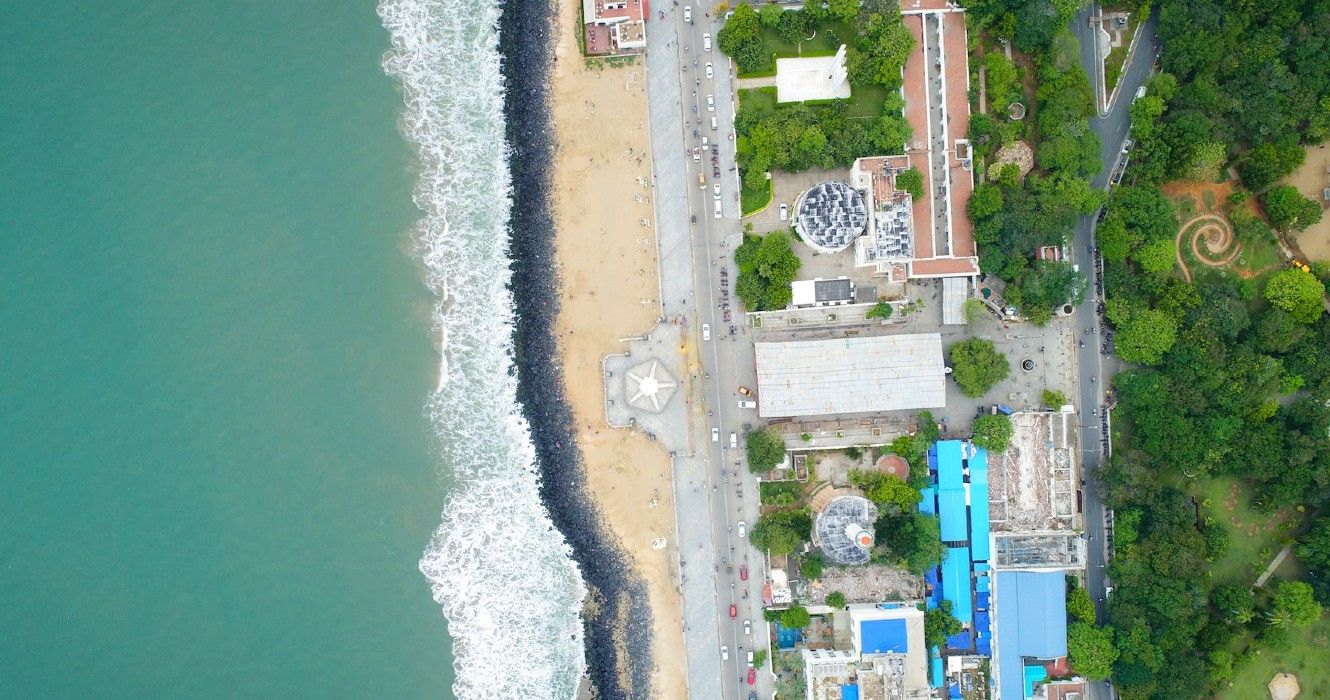 A Complete Guide To Scuba Diving In India (An Underrated Dive Destination)
It's no secret: India is a mystical nation of natural wonders, diverse culture, lively Bollywood entertainment, saris, swamis, sunshine, and spices. With its perfect blend of cultural awe, unique cuisine, busy cities, laid-back countryside, marvelous mountains, amazing waterfalls, and stunning beach destinations, the country has enchanted travelers for millennia. What many globetrotters don't know, however, is this: a vibrant planet bustles beneath the waters in and around India — and divers nationwide and globally have begun to take notice.
While India has always hosted breathtaking shores and idyllic islands pulsating with marine life around its vast coastlines, only in recent times has this enormous country become a known scuba diving destination. India's coastline extends for almost 8,000 kilometers, meaning masses of marine worlds abound — some mere steps from the shores, others more remote and far away from the mainland's infectious energy. Sure, most of the top attractions in India (as well as its plentiful hidden gems and lesser-known spots) are packed within its 3.3 million square kilometers of land. Below sea level, however, just as many (if not even more) breathtaking sights and experiences beckon.
Related: These 10 Exciting Excursions Are Worth Booking In India
Ideal for experienced divers and beginners alike, India is fast earning a hold among the best places to dive in South Asia, despite having remained a vastly underrated diving destination for so long. Any underwater enthusiasts seeking to discover its waters themselves are in luck; this complete guide to scuba in India delivers the full rundown, spilling the juicy knowledge on where to dive in India, the top dive sites India has to offer, and how to dive and reach each spot.
Where Can You Go Scuba Diving In India?
Most of India's best dive sites are situated in four main areas (along with a few smaller spots). These four major destinations are Goa, Pondicherry, the Andaman Islands, and the Lakshadweep Islands, while Netrani Island in the Arabian Sea and Kovalam in the Indian state of Kerala are two other destinations worthy of a mention.
The following part of this India diving guide will summarize India's top dive destinations first before going into much greater detail regarding each location in subsequent sections.
The Best Places To Dive In India
A summary of the best dive sites in India is as follows:
Goa — located on India's west coast, Goa (famed for its beautiful beaches) is the smallest and richest state on this side of the country. It grants travelers access to the Arabian Sea and its various islands. Typically, dive sites in Goa include lush coral gardens, dramatic pinnacles, and several shipwrecks.
Pondicherry — situated on the east coast of India, Pondicherry boasts pristine and mostly unexplored reefs, as well as numerous wrecks.
Andaman Islands — set in India's far east nearer the coast of Thailand, these stunning islands offer many dive areas, with popular spots including Nicobar, Narcondam, the Barren Islands, and Havelock Island — the "dive capital" of the Andamans.
Lakshadweep Islands — a remote archipelago to the southwest of India's mainland. Located toward Mauritius and a short distance above the Maldives, these islands offer similar diving to the latter, entailing colorful reefs, fun swim-throughs, overhangs, and plenty of big fish action.
Netrani Island — Set in the Arabian Sea just off the coast of Murudreshwar city, the heart-shaped Netrani Island offers a teeming coral reef chock-full of vibrant fish and occasional encounters with big species.
Kovalam, Kerala — this small coastal town in the south of India is a popular dive destination in Kerala, just south of Thiruvananthapuram. It boasts hordes of rich sea life and long-standing dive operators.
Related: A Study Has Revealed The World's Best Snorkeling Destinations
The Best Scuba Diving Destinations In India: A Complete Guide To Each Area
For travelers seeking in-depth (terrible pun, sorry, not sorry) information on the best dive sites India has to offer underwater enthusiasts, both beginner and seasoned, the following sections cover everything divers need to know.
Every section discusses each destination summarized above, explaining popular dive spots within each destination, how to get to each one, and how to dive in each area.
Scuba Diving In Goa
Goa is one of the best places for scuba diving in India for several reasons: the climate is tropical, the dive sites are accessible, marine life is bustling, and diving is very affordable (much like the local beer) — especially for those intending to do their Open Water Diver certification (the first diving qualification on the scuba ladder).
Goa's most popular dive sites are a short boat trip from Panaji city. Although Goa is famed for being a tropical haven, divers can't expect typical tropical waters with crystal-clear visibility.
The Arabian Sea is warm and full of life; however, it's not a millpond. Goa's diving quality is good, but the visibility isn't known for going beyond ten meters (33 feet) for the most part.
Still, Goa's dive sites (and its diving scene in general) are renowned for being fun rather than life-changing aquatic realms.
Related: Traveling In India? Best 10 Places To Visit In A Week
In between touring the historic Old Goa and sipping beers on the laid-back, beach-shack-peppered sandy shores, a handful of interesting Spanish and Portuguese wrecks beckon divers, as well as many other entertaining sites.
Among the most notable dive spots in Goa (and one that stands out as being a bit different from others in terms of underwater conditions) is Grand Island — a former Portuguese colony with pristine beaches, lively nightlife and parties, old churches, great shopping, and a fun atmosphere.
Here, divers can enjoy a pretty marine environment on India's southwestern coast — one with fewer currents and clearer visibility known for shallow waters ideal for new divers donning their fins for the first time.
The Uma Guava Reef near Grand Island is among the most popular dive sites in Goa, thanks to its excellent water visibility and abundance of life, with various lobsters, reef fish, sea cucumbers, needlefish, and even white-tip reef sharks and small turtles taking up residence.
Other famous dive sites off Grand Island's coast include Bounty Bay, Shelter Cove, and Suzy's Wreck — all must-sees when diving in Goa.
How To Get To Goa
Goa has its own airport, which is well-connected to other parts of India by Indian Airlines and Jet Airways. As it's a massive tourist destination, visitors can easily book a taxi at the airport to take them to their accommodation — which there's also no lack of.
Ideally, divers will find it convenient to stay close to the city of Panaji (also known as Panjim), although most dive centers will collect customers from their hotels anyway.
The Candolim and Sinquerim beaches of northern Goa are handy and lovely locations to stay nearby.
Plus, divers staying close to the city not only get access to lots of affordable accommodation and entertainment, but they also get to experience authentic, "real-life" Goa — a world away from South Goa's primed and polished bubble of expensive resorts.
How To Dive In Goa
Goa is home to a number of dive operators. Some of the most convenient dive shops include Goa Aquatics in Calangute and Barracuda Diving in Baga; both are only an hour's drive north of Panjim and are set in the heart of the area's touristic center.
There's also Dive Goa and the highly-rated Goa Diving, the latter having operated for over three decades.
Scuba Diving At Netrani Island
Netrani (also known among local people as Netragudo) is a small island in the Arabian Sea just off the coast of the holy city of Murudeshwar. This tiny dot in the sea is shaped like a heart, but its reefs are what make it truly special — not just its literally lovely shape.
The stunning coral reef boasts tons of life, with species calling this spot home, including parrotfish, butterflyfish, and triggerfish.
What's more, the luckiest divers might get the chance to encounter orcas and whale sharks between December and February, therefore making Netrani Island one of the world's excellent dive sites with whale sharks — even if sightings aren't super common.
How To Get To Netrani Island
Netrani is located approximately ten nautical miles from Murudeshwar on the mainland, which is accessible via rail and air from many major cities across India, though there are no easy-to-find direct flights, and the nearest airport is in Mangalore (officially known as Mangaluru) — around 137 kilometers away.
Most divers hoping to explore the island's dive sites thus stay in Murudeshwar, where many of the local dive centers are placed. Dive operators in Murudeshwar usually offer diving excursions to Netrani Island, which takes around 70 to 90 minutes to reach by boat.
How To Dive Netrani Island
Divers can stay in Murudeshwar and dive with the many well-reputed operators, such as Dive Netrani, Netrani Adventures.
Related: 10 Best Places For An Epic Solo Trip In India
Scuba Diving In Pondicherry (Puducherry)
This delightful tropical city and former French colony is famed for its architecture, temples, churches, and French-inspired avenues.
The old town itself is quite reminiscent of France, with its leafy boulevards and decent French cuisine. Among the scuba community, though, it's renowned as an underrated dive destination.
Pondicherry (also known as Puducherry and sometimes nicknamed Pondy for short) boasts many fun diving sites with a lot to see, much like Goa. Again, similar to Goa, Pondy is one of the most affordable places to try scuba diving in India.
Those elements aren't the only similarities it shares with Goa; underwater visibility often remains under ten meters (33 feet)
Still, what Pondicherry lacks in water clarity it makes up for tenfold with its array of marine species. In addition to plenty of typical tropical reef species, divers also have the possibility of witnessing sea turtles, sea snakes, lobsters, sharks, and dolphins year-round.
Plus, Pondicherry is one of the many places on Earth to dive with manta rays — on occasion, if lucky. The marine sites in this area also provide the opportunity to dive with whale sharks between May and August.
On top of its excellent plethora of species to view, Pondicherry is home to a very unique dive site. That spot is Temple Reef, an artificial reef created out of recycled materials and the largest of its kind in South Asia.
How To Get To Pondicherry
The easiest and most convenient way to get to Pondicherry is from Chennai — either by road or air. The nearest airport from Pondicherry to fly into is Chennai International Airport, 135 kilometers away.
Pondicherry is then only a couple of hours from Chennai by rail (Villupuram is the closest railway station) or road. Chennai is well-connected to many major Indian cities, such as Mumbai, Delhi, Kochi, Pune, Thiruvananthapuram, and Hyderabad.
Taxis frequent Chennai airport, which can take travelers to Pondicherry.
Traveling by train in India is an adventure in itself. Fortunately, for those interested in experiencing it, rolling along the rails to Villupuram from Chennai is a convenient (and arguably fun) option.
As well as Chennai, Villupuram is also connected to other major areas, such as Madurai and Trichy (Tiruchirappalli), with frequent train services.
Trains run from Villupuram to Pondicherry, which is approximately a 39-kilometer journey. However, many travelers hop in taxis from Villupuram to Poncherry instead for greater convenience, comfort, and less waiting around for trains.
Pondicherry is also accessible by road via bus — not just taxis. Private tourist buses depart from Chennai, Madurai, and Bengaluru to Pondicherry regularly.
Buses also link Pondicherry to Trichy, Chidamabaram, Thanjavur, and Coimbatore. Buses leave like clockwork every 15 minutes or so from Koyembedu in Chennai, with the express buses to Pondicherry taking around three and a half hours.
How To Dive In Pondicherry
In Pondicherry, Temple Adventures — the area's main dive shop — is right in the town center, close to the railway station.
Like many dive operators, they may pick divers up for the day's diving trip. Urban Nomad Adventure is also a highly-rated dive center in Pondicherry. Wherever divers stay in the town, getting around is easy; many travelers rent mopeds.
Related: Why Everyone Should Visit India (And What To Watch Out For)
Scuba Diving In The Andaman Islands, Nicobar Islands, Narcondam & The Barren Islands
Surrounding the volcanic and barely populated Andaman Islands is a protected marine reserve. As such, the marine life in these waters is amazing.
These islands, famed for their powder-white beaches, turquoise waters, and lush emerald green forest, are where spectacular species frequent — from turtles to see manta rays and so much more.
Additionally, rich soft corals, all manners of colorful reef fish (curious batfish especially), and even marine species endemic to this part of the world can be seen — including the Andaman sweetlips and the Andaman damselfish.
Some of the most popular dive areas in the Andaman and Nicobar Islands (easily India's most beautiful islands), as well as Narcondam and the live volcanic Barren Islands, are included under the "Andaman" umbrella in the dive community.
Other prime dive spots include Port Blair (the capital of the Andamans), Havelock Island (the "dive central" of these islands), and Neil Island.
The Andaman Islands boast several top-rated and known dive shops, most of which are based on Havelock Island — a small island situated around 30 kilometers northeast of the Andaman capital of Port Blair.
Off Havelock, Dixon's Pinnacle is a very popular Andaman dive site with ginormous underwater mounds coated in fluorescent soft corals and multicolored sponges — as well as resident reef fish like brown marbled groupers, schooling bannerfish, and napoleon wrasses.
If that wasn't enough, the underwater cleaning station here draws in manta rays and whale sharks — sometimes. As for shipwreck lovers, the SS Inchkeith is also a great wreck dive — a vessel that sank in 1955 and a superb structure for scoping out macro life.
How To Dive The Andaman Islands
Dive Andaman, Havelock Divers, Andaman Bubbles, and Dive India are each top-rated dive centers on Havelock Island.
Day trips diving in the Andaman Islands is a fantastic experience; however, when staying on land, logistically, travelers will be a little more limited in terms of the number of dive sites they have access to.
Instead (particularly for hardcore divers who want to do nothing but dive as much as possible), the best way to see a lot of the Andamans is to book a live-aboard trip.
Also, diving the Andaman Islands is possible from Phuket in Thailand, which may be better for seeing the more remote parts of the archipelago.
How To Get To The Andaman & Nicobar Islands
From mainland India, the best way to reach the Andaman Islands and the Nicobar Islands is via Chennai, from which there are regular flights to the Andaman capital, Port Blair.
However, the flights from Chennai to Port Blair are usually small, meaning they fill up fast. Therefore, booking this route well in advance is recommended, especially if traveling in peak season.
Indian nationals don't need any permits to enter the Andamans, but some foreigners do; additional documentation must be obtained — see the Andaman and Nicobar Islands Tourism page on entry for foreign nationals for information on what's needed.
Due to the documentation that some non-Indian citizens require for entry, many travelers arrange their trip through travel agents who can guide them through the process.
Though the Andamans and Nicobar are actually part of India, they're very accessible from Phuket in Thailand, too. In fact, as mentioned, one of the most popular ways to dive the Andamans is via a liveaboard from Phuket.
Scuba Diving In The Lakshadweep Islands
Lakshadweep is comparable to the Maldives, and its diving is just as sublime. This archipelago of 36 islands (previously known as the Lacadives) is found 250 miles off Malabar in the Arabian Sea and only around 445 miles from the Maldives.
Given these islands' proximity to the latter, they offer similar diving to the northernmost Maldivian atolls.
Only some Lakshadweep islands are accessible to tourists, with Bangaram, Kavaratti, and the remote Kadmat being favored. However, these breathtaking spots in the sea are all divers need for some truly incredible underwater action.
The marine life residing in the waters in and around these islands is diverse and abundant, consisting of over 600 species of fish and 78 coral species.
Related: You Can Stay For Free At One Of The Most Sacred (And Famous) Temples In India
Kavaratti, in particular, is a diver favorite; this scenic town in the Lakshadweep archipelago is situated just off the coast of Kochi (previously known as Cochin) and is an all-around world-class dive destination.
The waters' idyllic conditions make for exquisite diving and also foster an ideal environment for beginners to learn how to scuba dive. Famed for soft coral sharks, arrays of tropical fish, turtles, and rays — as well as a few wrecks and caves — Kavaratti Island offers something for every diver.
Wreck lovers will also enjoy diving on Minicoy Island — another Lakshadweep spot and one with three shipwrecks. Interestingly, these sunken vessels are believed to have led to the island lighthouse's construction in the late 1800s.
Among the other top islands in the Lakshadweep archipelago is Pitti Island, whose dive sites consist of a couple of decent wrecks and the alluring novelty appeal of seeking out black coral.
However, its above-water assets prove to be a significant draw; Pitti boasts an important sea turtle colony, and the island's entirety is a designated bird sanctuary, where most of the Lakshadweep bird species (approximately 100 or so) can be observed.
How To Dive Lakshadweep
Agatti Island Resort is a great base from which to dive Agatti Island and Bangaram Island — the staff can organize dive excursions to both these islands' sites.
Based out of Mumbai, Lacadives is also an option, as their teams are seasoned Andamans and Lakshadweep dive trip operators. Other Lakshadweep dive centers include Lakshadweep Scuba Adventures and Lakshadweep Voyage.
How To Get To Lakshadweep
Travelers can reach Lakshadweep by air from the Keralan city of Kochi (formerly known as Cochin). The flight takes around an hour and a half.
If there's enough time, tourists will really enjoy including Kochi in their itinerary before or after visiting the Lakshadweep archipelago; this historical city is home to heaps of culture and attractions, as well as plenty of mouthwatering south Indian cuisine to sample (in addition to traditional Indian food delicacies).
Scuba Diving In Kovalam, Kerala
Kerala, often lovingly referred to as "God's own country," is an Indian state well-famed for its pretty, lush mountains, spice plantations, beautiful wildlife, national parks, aromatic coffee, and, perhaps best of all, water sports.
Much of the water action takes place in the small coastal hotspot of Kovalam in the south — indeed, one of India's charming small towns.
Better yet, though, Kovalam is a magnet for scuba divers in India because the waters are wonderfully clear, not to mention they hold myriads of life.
Shoals of anchovy and silver moony form shining underwater clouds, moray eels hide amid the corals and rocks, and friendly reef critters like pufferfish, butterflyfish, rabbitfish, and adorable box fish with their puckered lips can all be encountered.
Favored by beach bums and watersports adventurers, Kovalam also offers parasailing, fishing, kayaking, and paddleboarding off its pretty golden sandy beach.
How To Dive In Kovalam
Bond Safari Kovalam and Scuba Cochin — the first recognized PADI Dive Center in Kerala, established in 2008.
How To Get To Kovalam In Kerala
Flights to Kovalam from most parts of India are widely available. The nearest airport to Kovalam is Trivandrum, which is only a half-hour drive from Kovalam Beach, where much of the diving happens.
From the airport, visitors can get in taxis, use buses, or hop on auto-rickshaws to make their way to Kovalam. In addition to Trivandrum, a reliable bus network connects Kovalam to other major cities, including Chennai, Bangalore, Mangalore, Madurai, and Nagercoil and Madurai.
Related: Best River Cruises You Can Take In Kerala (& Throughout India)
When Is The Best Time To Dive In India?
Most of the best diving in India takes place around the southern half of the country, where tropical dive conditions are the standard for the most part.
Collectively, the best time to dive in India (particularly in its southern parts) is in the dry season from November to March, when the skies are sunny, and water temperatures in the most popular dive areas range from 26 °C to 30 °C (79 °F to 86 °F).
Plus, visibility is at its clearest during this time. Thanks to such warm waters, many divers will be comfortable wearing a swimsuit for diving and snorkeling, while others will be fine with a thin wetsuit (3 millimeters to 5 millimeters thickness will suffice for most people).
Generally, the country's dry season is indeed peak time for diving, with the best water conditions. However, each of the Indian dive destinations in this guide vary slightly regarding their ideal months.
Therefore, the following sections will reveal the best time to go scuba diving in India in each location mentioned above so that divers can choose when to plan their trip based on their desired spot.
When To Dive In Goa
Hands down, the best time to dive in Goa is the dry season from October to May. This period is also easier for reaching Goa and Pondicherry's dive areas, as both are reasonably close to big international airports with regularly scheduled flights.
That said, water visibility isn't anything to call home about; it's often less than ten meters (33 feet), even during Goa's best diving season.
When To Dive Netrani Island
Diving at Netrani Island often takes place from June to September, which is the most popular time, thanks to better water visibility that can range from 15 to 20 meters (or around 50 to 65 feet).
During this time, the weather and ocean conditions are much more favorable, hence the calmer diving environment and more transparent water.
However, as mentioned earlier in this guide, the best time to dive Netrani Island for better odds of sighting orcas and whale sharks is between December and February.
When To Dive In Pondicherry
The best time to dive in Pondicherry are the months of February to April, and then again from September to November, when visibility ranges from 20 to 30 meters (66 to 98 feet) and the ocean conditions are calmer.
When To Dive The Andamans & The Nicobar Islands
Nestled in the middle of the Indian Ocean and the Bay of Bengal, the best time to dive the Andaman Islands or the Nicobar Islands tends to be the dry season from October to May during the dry season.
Waters are warm, again around 27 °C to 30 °C (81 °F to 86°F); water visibility can exceed 35 meters (115 feet) and even up to 50 meters (164 feet) on good days.
Most Andaman dive centers are closed throughout the wet monsoon from May to September, though — but diving in Lakshadweep is an alternative option during this time.
When To Dive In Lakshawadeep
The best time to dive Lakshadweep is between September and May when the ocean is calm and much more pleasant in terms of diving conditions.
Diving these islands during this season is lovely; the waters are clearer, and dive surface intervals can be spent on kayaks, sailboats, and snorkeling.
When To Dive In Kovalam Kerala
Surprise surprise: the dry season is ideal for scuba diving in Kerala. Specifically, the best time to dive Kovalam is September to February, when ocean conditions are superb.
Still, Kerala's year-round tropical climate and pleasant weather make it a fantastic place for a vacation, with gorgeous beaches as one of the main attractions (besides diving and snorkeling, of course).
On the other hand, March is not great for snorkeling and diving in Kerala; the tides and currents make water activities a little less pleasant. Also, the intense summertime temperatures can be way too hot for some tourists.
Related: Instagram Vs. Reality: What Tourist Spots In India Are Really Like
What To Know Before Diving In India: Dive Safety Tips & Hyperbaric Chambers
Even without diving on the activity roster, travelers should prepare for their trip in advance and take India travel tips on board from those who've been there and done that before.
For divers, though, an additional layer of prep is necessary; ensuring dive safety and best practices are crucial for any dive destination — and India is no different.
Before jetting off to plunge below the surface of the most beautiful dive sites in India — many of which are featured above and quickly gaining attention in the dive community and earning places among the world's top dive destinations — brushing up on these dive travel tips would be a wise move:
Know the hyperbaric chambers: hyperbaric chambers are operational in Delhi, Mumbai, Ahmedabad, Port Blair (Andamans), and Kochi in Kerala (near the Laccadives). Still, hyperbaric facilities are said to go on and offline regularly, so checking with governmental travel recommendations and the dive center with whom diving activities are booked is important.
Get dive insurance: diver insurance isn't always legally required, but it's still essential for any destination. It helps pay for any medical bills, emergency transport, diver accidents, and other incidents during the trip. Depending on the policy, it also lasts the whole year, covering more than one dive vacation if needed. DAN (Divers Alert Network) is the best and most popular global insurance provider for divers, offering multiple types of coverage.
Check the insurance: having diver insurance is one thing, but being familiar with what it actually covers is another. It's essential to check the policy to ensure proper protection and be aware of any constraints.
Dive with reputable licensed dive centers: when booking an excursion or taking a dive course during the vacation (whether as a complete beginner for the first time or to take an advanced diver course or specialty), always go with a reputable operator. Dive centers and resorts with official dive agency ratings (such as SSI or PADI 5* Dive Centers/Resorts) are usually a good indicator of professionalism and reputation. Still, check shortlisted providers' reviews and speak to the teams before booking anything. Don't forget to ask questions, either — and if anything sounds off, don't risk it. Good dive operators will instill confidence, not doubt or uncertainty.
Take a refresher course: if it's been a while since a certified diver last got in the water (or if they feel like they need some practice), it's recommended to take a refresher with a dive instructor. Most dive centers offer this service at a reasonable price and it involves going over basic gear assembly, diver skills practice, and safety knowledge.
Many of the world's best dive sites attract underwater fanatics from around the world — no matter their skill level. However, these famous places' popularity and stunning beauty often overshadow underrated dive destinations, keeping them just that — underrated.
Related: Tropical Snorkeling: Tips To Remember & What Not To Do
Of course, the global jewel of India has been a tourist hotspot for years; however, in more recent times, it's gaining significant traction in its popularity — and with that celebrity comes the attention of discerning scuba divers seeking their next wet adventure.
Given the number of excellent, diverse, and species-rich dive sites on the map of India, this sensational nation deserves a place among its itineraries — as a glowing and growing global hub for all things underwater.