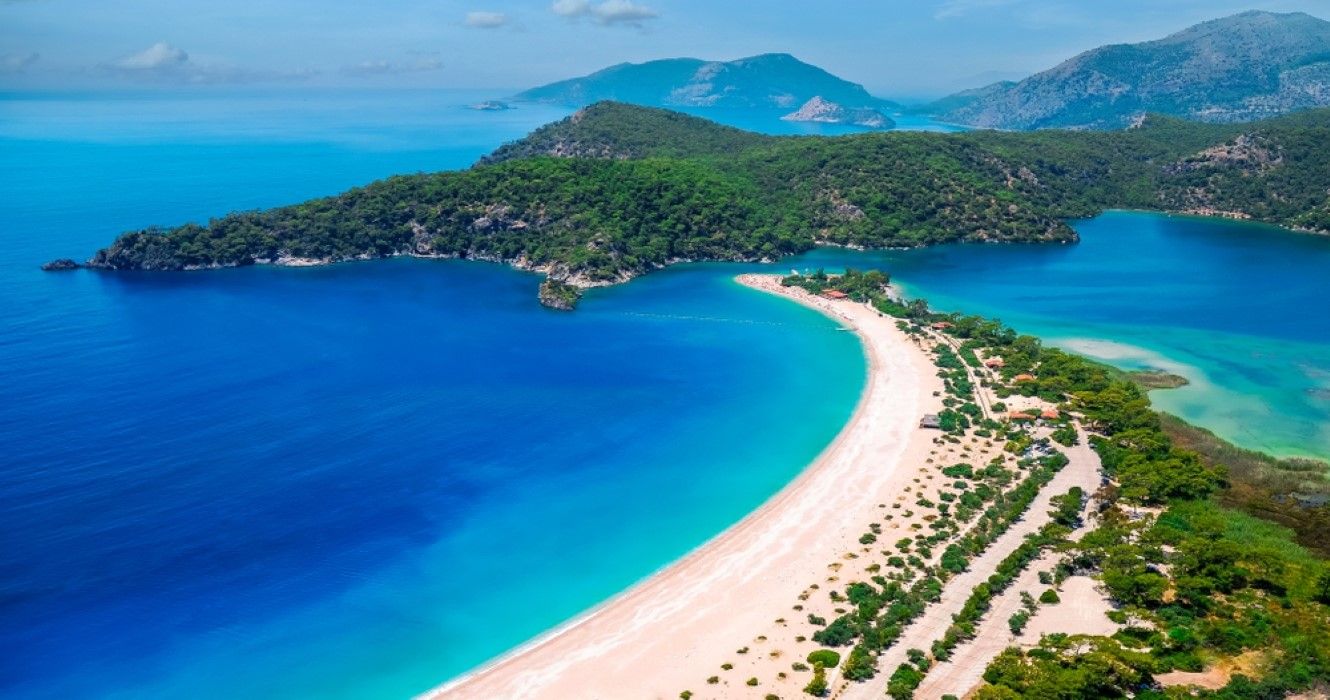 10 Most Beautiful Turkey Beaches Everyone Will Love
Turkey is a beach paradise. Between the Mediterranean country's historical culture of whirling dervishes and famed hammams, its reputation as a coastal dreamland often takes a backseat. The truth is Turkey is home to many turquoise beach towns worth visiting. During the summer, when the sun comes out, and the waters are pleasant enough to swim or snorkel in, there's really no place better to be than on a Turkish beach.
Despite the heavy tourism Turkey sees during the peak holiday season when the shores are dotted with sunbathing people and enthusiastic divers, most beaches remain clean, unadulterated hotspots of natural beauty. Whether the traveler takes a trip to Antalya, renowned as Turkey's biggest international sea resort site, or jet sets to remote spots like the Butterfly Valley Cove and the Oludeniz Beach lagoon, they're bound to have a breathtaking experience. Here are the 10 most beautiful Turkey beaches everyone will love to kickstart those summer plans!
The hotels featured in this article are all based on our recommendations and have been curated after thorough research on stays in Turkey's sought-after beach locales. These accommodations enjoy superior reviews from travelers, as well as high ratings of 8.0 and up at the time of publishing. The varying price range of stays mentioned hopes to cater to an assorted group of travelers seeking comfort and hospitality as per their budget.
10
Ovabuku Beach
For the traveler seeking tranquil respite from Turkey's regular tourist hotspots, Ovabuku Beach patiently waits. Here, crystalline waters lap at stony, secluded shores that are given cover by lush swathes of forests and surrounding hills. The virgin bay is situated in the pretty neighborhood of Datca, where beach bums can head later for a stroll through vintage cobbled streets or a bite of local Turkish delights.
9
Cirali Beach
Cirali Beach, Turkey
With azure waters, a mountainous backdrop, soul-satisfying sunrises, and practically zero crowds, Cirali Beach is everything a perfect beach should be. The imposing foliage that lines the shore gives the whole scape a unique, dreamlike feel one won't find on many other coasts, making Cirali Beach among the top places in Turkey to visit. The natural terrain has boosted many camping options in the vicinity.
Related: Mesmerizing Coastal Views: 10 Most Beautiful Islands In Turkey You Should Visit This Spring
8
Mermerli Beach
Mermerli Beach in Antalya
Mermerli Beach should be a top bucket list item on the itinerary of things to do in Antalya. Popularity hasn't sullied the purity of this wonderful beach where local fare, refreshing drinks, and leisurely comfort flow endlessly. Visitors may be charged a small access fee at Mermerli Beach, but, as the experience will tell, it's going to be totally worth it. Modern amenities, including sun beds and toilets, make this slice of paradise a favorite among tourists.
7
Patara Beach
Wanderers in search of surreal sunsets and solo downtime cannot miss Patara Beach. At 18 kilometers, it is one of Turkey's widest and most picturesque (to put it mildly) sandy strips. Patara Beach is steeped in local culture, hemmed in by historic ruins that go back to the ancient Lycian period. The pleasant temperatures allow for some great daytime swims, and those who are lucky enough may even catch a glimpse of sea turtles waddling in to nest at this beach.
6
Kaputas Beach
Kaputas Beach, Turkey
Mediterranean summer dreams come to life at Kaputas Beach, inarguably one of the best coves Turkey has to offer. This turquoise paradise, where magnificent cliffs meet clear blue skies, is hardly a hidden gem and is beloved by tourists looking for a picture-perfect, beachy escape. The lack of parking space is a common complaint among people visiting Kaputas Beach so, if possible, local transport or two-wheelers are recommended to reach this corner of heaven.
Related: Venture Inside Turkey's Blue Mosque To See Why It's So Special
5
Butterfly Valley Beach
Butterfly Valley Beach, Turkey
The beach at Butterfly Valley holds prestigious status among locals and visitors alike for being a must-see destination in Fethiye — and for good reason! Set against rocky formations, this fairytale cove lies in an undisturbed part of the coastline, where teal waters softly roll up to a thin strip of sandy land. From luxurious glamping to water sports, Butterfly Valley Beach offers great opportunities to experience its splendor. It's not the easiest place to reach, and visitors are required to take boats or water taxis, but all that beauty is definitely worth the effort.
4
Camel Beach
Coastline in Turkey
Camels on a beach? Yup, that's just one of the many awesome things to see in Bodrum, which is among Turkey's most popular beach tourism haunts. Camel Beach is a wonderful stretch of the Turkish coast, with just the right balance of family-friendly fun and seaside adventures. After all, on how many beaches can one claim to have enjoyed a camelback ride? Great for a day trip!
3
Kabak Beach
Kabak Beach, Turkey 
Kabak Beach has everything an average beachcomber will love — crystal clear waters, grand natural views, pleasant waves to swim in, and many quiet spots to kick back and unplug from the world. Since the coast is largely rocky, one may have to wade a little further into the Mediterranean bay in search of peace undisturbed by tiny stones beneath their feet. The locales of Kabak Beach are renowned for playing host to freewheelers, hippies, and backpackers.
Related: A Travel Guide To Turkey: Tourists Should Plan Their Trip Around These 11 Things
2
Kleopatra Beach
Kleopatra Beach in Turkey
A visit to Turkey's Antalya is incomplete without a day (or more) spent at the legendary Kleopatra Beach. As the name suggests, this sandy wonderland ties back to ancient lore surrounding the Egyptian queen, Cleopatra, who is believed to have taken a dip in these sparkling waters. Nature is still so pristine and well-preserved here that one need only look sideways to find sea turtles swimming alongside them!
1
Oludeniz Beach
The majestic Blue Lagoon of Ölüdeniz, Turkey.
Another highly popular beach along Turkey's idyllic coastline, Oludeniz Beach, can be a romantic haven on the days that it is not teeming with tourists (which it is, most days). To complement the sapphire scapes this bay boasts of, there are plenty of daytime activities like paragliding available here. A beautiful blue lagoon is tucked away between the verdant hills around Oludeniz Beach that can't be missed.