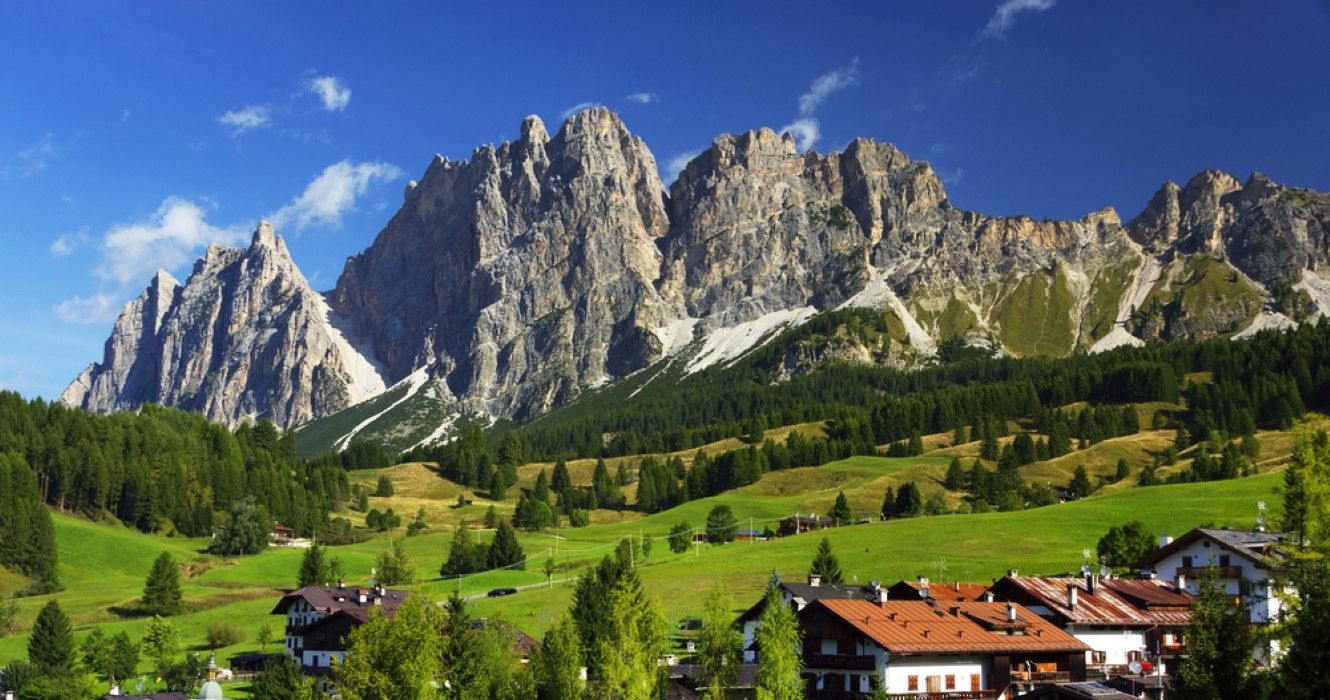 10 Most Beautiful Mountain Towns Around The World You Need To Visit
There is something about mountain towns that make them so unique and appealing. While people flock to such towns for the adventures they offer, it is their unique beauty that makes them particularly appealing. For travelers seeking to enjoy a vacation in a picturesque mountain town where there are plenty of opportunities for outdoor adventures, these are the most beautiful, to begin with.
10
Bled, Slovenia
It's easy to see why Bled is a highly sought-after destination in Europe. While Lake Bled is what makes this town particularly charming, the surrounding mountains and forests also add to its beauty. Some exciting things to do in Bled include row boating, visiting the iconic Lake Bled Castle, or walking around the lake.
9
Aspen, United States
Aspen is a beautiful town positioned right in the middle of some of Colorado's massive mountains, where it is battered every winter with an abundance of snow. Aspen is one of the most popular ski destinations in the United States, as it features plenty of ski resorts that have trails for all ski levels. The scenery and winter adventures, however, are not all one will enjoy here. Visitors to this town will also enjoy shopping, delicious food at the town's restaurants, and entertaining events.
8
Lucerne, Switzerland
Lucerne is one of Switzerland's gems where one can find scenery and adventures. The town is located in central Switzerland and it is characterized by a beautiful lake, a scenic mountain backdrop, and plenty of historic buildings. Visitors to this town will enjoy exciting cruises, hikes, train rides, and gondola rides. Walking through the streets of the town and just looking at the impressive medieval architecture is also an exciting thing to do in Lucerne.
Related: 10 Incredible Places In Switzerland You Have To See Before You Die
7
Shirakawa-go, Japan
Everything about Shirakawa-go is charming, from its impressive traditional houses to the greenery it presents during spring and summer, the golden glow it displays during autumn, and the winter scenery it displays during winter. Laying in the shadow of a forest-carpeted Mount Hakushan, this town is a dream destination where one will enjoy a memorable lodging experience and activities such as – seeing the city from the Shirayama observatory, visiting one of its museums or just taking a walk around the town.
6
Wanaka, New Zealand
The picturesque lake and towering alps that surround the small town of Wanaka do not just make it beautiful but also a place where one can enjoy plenty of outdoor activities. Regardless of whether one visits during summer or winter, there is always something to enjoy in this town. All year round, visitors to this town will enjoy activities such as – hiking, kayaking, hiking, hunting, and fishing.
5
Banff, Canada
The town of Banff is arguably the most popular destination in Canada due to its location and the type of excitement one can have there. Located in the rocky landscape of Banff National park, this small town offers amazing mountain scenery, and it is a haven for all kinds of outdoor adventures such as – hiking, biking, and skiing. Within the town, there are plenty of accommodations, restaurants, bars, shops, and attractions waiting to keep visitors entertained at all times.
Related: Booking Banff: The Ultimate Travel Guide To Its Park & Town Center
4
Cortina d'Ampezzo, Italy
Cortina d'Ampezzo is one of the most exciting destinations to visit in Italy as it offers the best opportunities to explore the beautiful and adventure-filled Dolomites Alps. With a stay in this town, visitors will be graced with views of towering mountains and green fields while also having access to plenty of accommodation, shops, and some of the best skiing in the world.
3
Chamonix, France
There are many charming towns in France worth visiting, and Chamonix is a great place to start. This small town is one of the best ski resort destinations in France as it is surrounded by several towering peaks, which are often covered with an abundance of snow during winter. Chamonix has restaurants, cafes, bars, shops, hotels, and several historic attractions. The town also has a cable car that visitors can ride on to get a bird's eye view of the picturesque landscape and plenty of ski areas where all levels of skiers can enjoy skiing and snowboarding.
2
Flam, Norway
Flam is a charming town in Norway positioned in front of a scenic water body and surrounded by forest-carpeted mountains. The town is one of the best places from which to explore the incredible fjords of Norway. One of the best things visitors to this town can do is ride the scenic Flam railway as it presents visitors with sights of several waterfalls and the picturesque landscape of Norway. Visitors to this town will also enjoy fjord cruises, scenic hikes, and plenty of historical attractions.
1
San Miguel de Allende, Mexico
San Miguel de Allende is one of Mexico's numerous towns that will charm any traveler. The town has been a recipient of many prestigious awards as it has everything a person needs to be happy. Besides the beautiful mountain scenery it presents, San Miguel has historical attractions, cobbled streets, world-class hotels, and plenty of restaurants and bars. Visitors to this town will enjoy eating delicious food, taking in the views of the colonial architecture, and visiting the numerous historical attractions.