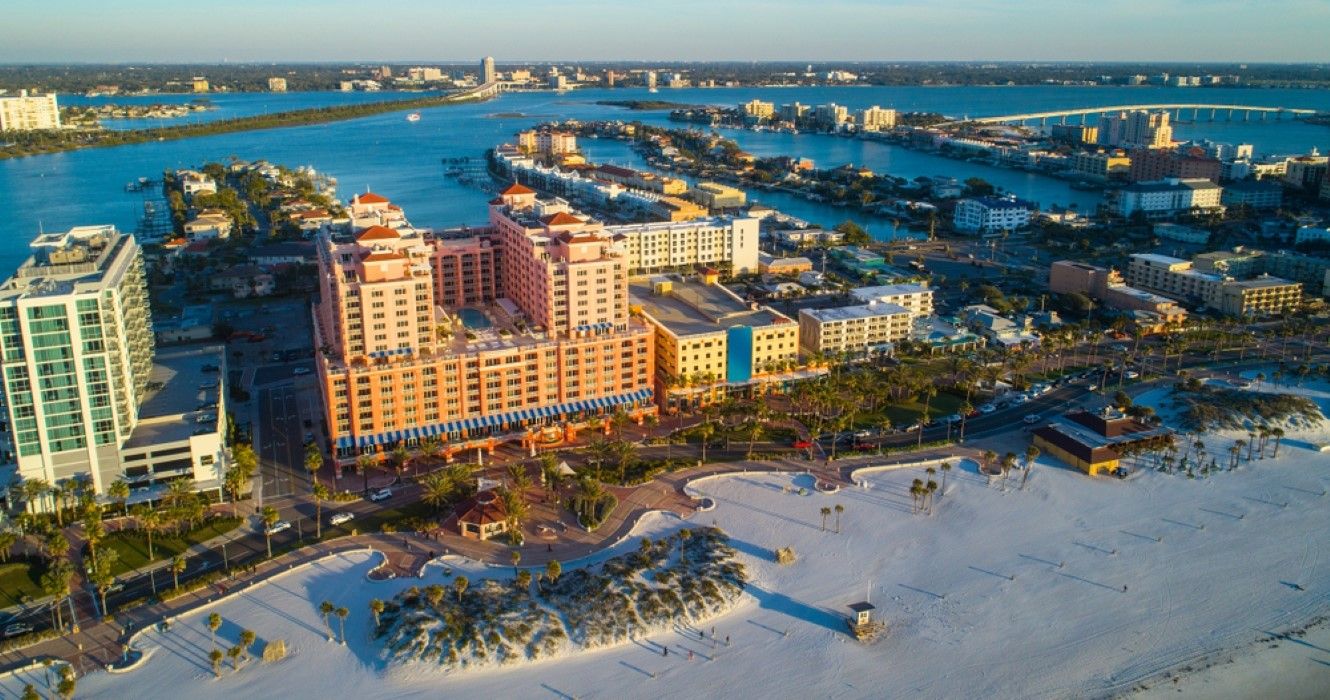 10 Most Beautiful Beach Hotels In Clearwater, Florida, You Should Book
Book these 10 most beautiful hotels in Clearwater, Florida to enjoy the sunny weather and amazing gulf coast beaches.
Aerial view of resorts in Clearwater, Florida
Clearwater waterfront, Florida, is popular for its clear sandy beaches, breathtaking views, balmy weather, and restaurants. The city also hosts many fun activities for visitors of all ages. Whether you love swimming with dolphins, sand bathing, or dining at luxurious restaurants, Clearwater city promises a fun-filled experience. Here is a guide on the ten most beautiful beach hotels you should book in Clearwater.
La Quinta Inn is a two-storey hotel with 148 rooms, including 16 suites, pool view rooms, family rooms, smoking, and non-smoking rooms. Each room features a private desk, coffee/tea maker, TV air conditioning, and cable/satellite to make your stay comfortable. The hotel is conveniently located at the heart of Clearwater city, 12 minutes drive from St. Petersburg-Clearwater International Airport.
Sheraton Sand Key Resort is another stylish 4-star hotel in Clearwater, Florida. It is nestled in Clearwater's barrier island, 27 miles northwest of Petersburg and 26 miles west of Tampa.
The hotel offers 390 sleeping rooms, including family, suites, ocean views, and non-smoking rooms. Each room has a 37-inch flat-screen TV, coffee maker, and climate control, among other facilities.
RELATED: Top Ten Rated Clearwater Florida Resorts You Should Book This Spring
Enjoy panoramic views of the Gulf of Mexico, a glass-wall pool, and spectacular Clearwater beaches from one of The Edge Hotel's private balconies. This relaxed hotel features ten floors and 173 rooms, including ocean view, city view, suites, pool view, and family and non-smoking rooms to give you options. It is located in Clearwater city, 4 minutes' walk from Clearwater beach and 13 miles from St. Petersburg Clearwater International Airport.
If you have ever dreamed of staying in a chic boutique hotel with key west-styled rooms and suites, then Hotel Cabana is the place to be. This quaint hotel boasts 29 spacious accommodations with air conditioners, hair dryers, clothes racks, and a kitchenette, and a Flat screen TV, among other hotel amenities.
It is located a few steps from Clearwater beach and 18 miles from Tampa International Airport.
RELATED: Unwind In Tampa: The Ten Best Hotels for A Relaxing Spring Break Getaway
Pier House 60 Clearwater Beach Marina Hotel is great for people looking for premier accommodation in Clearwater, Florida. It contains ten classic floors, 107 rooms, and ten suites. The hotel is named after state road 60 and is conveniently located near the beach and town. All rooms are equipped with TVs, king-sized beds, and coffee and offer breathtaking outside views. Breakfast is available to all guests, and other meals are available on request.
Shepherd's Beach Resort is a luxurious resort with 140 spacious rooms and suites. It offers a comfortable setting with many dining and drinking options. Visitors can grab a meal at any of the three restaurants within the hotel premise or relax at the fabulous sitting area offering stunning outside views. The nearest international airport to this accommodation facility is Tampa International Airport, 35 minutes drive away.
RELATED: Experience the Best of spring in Florida: Culture, Nature And Adventure
Wyndham Grand Clearwater Beach is a distinctive Clearwater hotel with 343 beautifully designed rooms. Each room has a 50-inch flat TV, coffee maker, refrigerator, and beautiful modern decor that welcomes you daily. The hotel's exteriors include a well-maintained pool with umbrellas and sun loungers, beach cabanas, and breathtaking white sandy beaches. Besides guest rooms, this hotel has conference rooms, event rooms, and wedding venues, making it an excellent destination if you have a beach occasion.
Hyatt Regency Clearwater Beach Resort & Spa is located in the center of Clearwater, offering convenient access to the beach and shopping amenities. The hotel is only 150 ft. from the Gulf of Mexico, and it features 286 spacious rooms with private balconies and full kitchens. The rooms are huge, and the eight floors offer partial gulf views and beautiful sunset views. The hotel has a seafood restaurant, and a longer menu is available on request.
Sandpearl Resort is a luxury destination surrounded by crystal blue water and white sand pristine beaches. It boasts 253 modern guest rooms and suites offering a clear view of the relaxed gulf coast setting. Sandpearl Hotel location is only 4 minutes drive from the Clearwater beach marina and has all modern amenities, including a zero-entry pool.
AC Hotel Clearwater Beach is a beautiful European-inspired hotel located at 345 Coronado Drive. It is a Marriott International subsidiary with 144 spacious guest rooms fitted with woodblock floors. The hotel has a Mediterranean-themed rooftop where guests view the Gulf of Mexico, among other breathtaking beachfront views. Buffet breakfast is available to every guest, and facilities for disabled guests are available.